MONROY'S LIVING CLICHE SINCE 1984 AT OFICINA CULTURAL OSWALD DE ANDRADE
Curatorship by Julian Lima / March - April 2014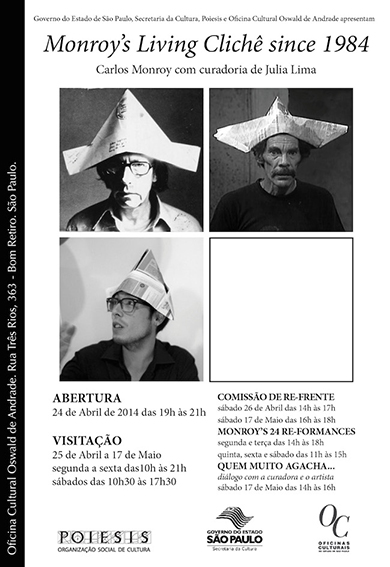 The Government of São Paulo State, the Department of Culture, Poieses and The Oficina Cultural Oswald de Andrade have the pleasure to present Monroy's Living cliché since 1984 solo show of the Colombian artist Carlos Monroy, results from his research for concluding his master's degree on Visual Poetic at USP, title Thoughts on Re-formance (imitations, pastiches, picaretagens and other tricks of the artist), and the dialogue established with the curator Julia Lima about life and art. The show brings together records of performances in videos, photos and photocopies, as well as objects the artist used in his works. The solo show presented a re-formances series, completed by Monroy through the whole duration of the event. Re-formance is a concept that the artist developed in his dissertation and that dress his whole production. The programming of re-formances was inspired in a work performed by Monroy at the Oswald de Andrade in September 2012, and includes a series of Invisible Actions planed by the artist and the curator for this exhibition.
Diploma de artista by julia lima
" Performance, performance dulce, performance bueno, performance gesto...

Re-formance y performance, re-formance parasita, re-formance pastiche, re-formance fetiche."
Ações reproduzidas, repetidas, copiadas, incorporadas, imitadas e refeitas por um performer que não sabe fazer nada, e que não faz ideia do que se está fazendo – o trabalho de Carlos Monroy poderia ser descrito de forma redutora e abreviada. No entanto, a re-formance para ele nada tem de superficial ou frívolo, visto que dedicou boa parte de sua pesquisa e tese final de mestrado engendrando e articulando este conceito. Muito à moda de Oswald de Andrade e do Manifesto Antropófago, ganha corpo, estatura e materialidade nesta exposição seu Manifesto Re-Formático (porque imitar é o nosso), fruto de anos de prática artística e da conclusão de sua dissertação. Assim, com uma tese-manifesto à mão, não é mero acaso que a palavra e o discurso estejam tão presentes em uma mostra dedicada à performance, como no poema Reprise Prolixo III: Performance sweet Re-formance, que rompe o branco das paredes ao redor de todo o espaço expositivo, escrito em grafite do punho do próprio artista, como um sermão ou um mantra oferecido ao público.
Mas não há apenas teorias e tratados em Monroy's Living Cliche Since 1984. Esta exposição nasceu tanto do processo acadêmico, como também dos diálogos travados no ateliê do artista, uma sucessão de frequentes encontros que expandiram o escopo da mostra para muito além da academia. Ela ganhou contornos maiores e mais densos após nosso primeiro encontro, ocasião em que Monroy afirmou considerar-se a si mesmo um pilantra, um picareta, ao mesmo tempo em que tirava, vibrante e nostálgico, sapatos de salto, pilhas de chapéus, luzinhas de natal e seu diploma de artista de uma imensa caixa de papelão que continha todos os objetos que já havia usado em cada uma de suas (re)(per)formances. Carlos é um picareta que se leva a sério. A partir deste contato com sua memória, foram discutidas questões centrais ao trabalho, como sua presença nos espaços expositivos, o papel e a importância dos registros e objetos, as possibilidades de intervenção nos lugares que ocupa, suas próprias expectativas.
Apresentava-se como ponto essencial de toda a exposição a presença reiterada de Monroy na sala expositiva, o que gerou a série 'Gesto de artista': todos os dias uma ação determinada; todas iguais; todas diferentes. Gestos prolixos, ambíguos – o artista piscando a cada 30 segundos; o artista-turista; o artista-espectador; o artista ready to start a performance; o artista esperando... Becketianamente – que teriam o mesmo resultado visual, mas seriam essencial e intrinsecamente distintos entre si. Além disso, tornou-se evidente a dimensão fundamental que os arquivos e documentos assumem no escopo do trabalho, vídeos e fotos de ações passadas nas quais Monroy re-forma tanto atos comuns, ordinários, quanto obras e acontecimentos icônicos de celebridades do mundo da arte e do entretenimento, encarando com seriedade e rigor toda e qualquer tratantice. Monroy's Living Cliche Since 1984 oferece, assim, o ensejo de mirar uma espécie de retrato da produção do artista, frames de suas várias versões – Marilyn Monroy, Monroy sem-teto, Monroy Abramovic, Monroy Carey, Monroy sambista, Monroy frade, Monroy eu e você, Monroy: "Eu nunca me reconheço, mas sei que sou eu".