performance product ltda. quid pro quou
Bachelor's Degree Project / November - December 2008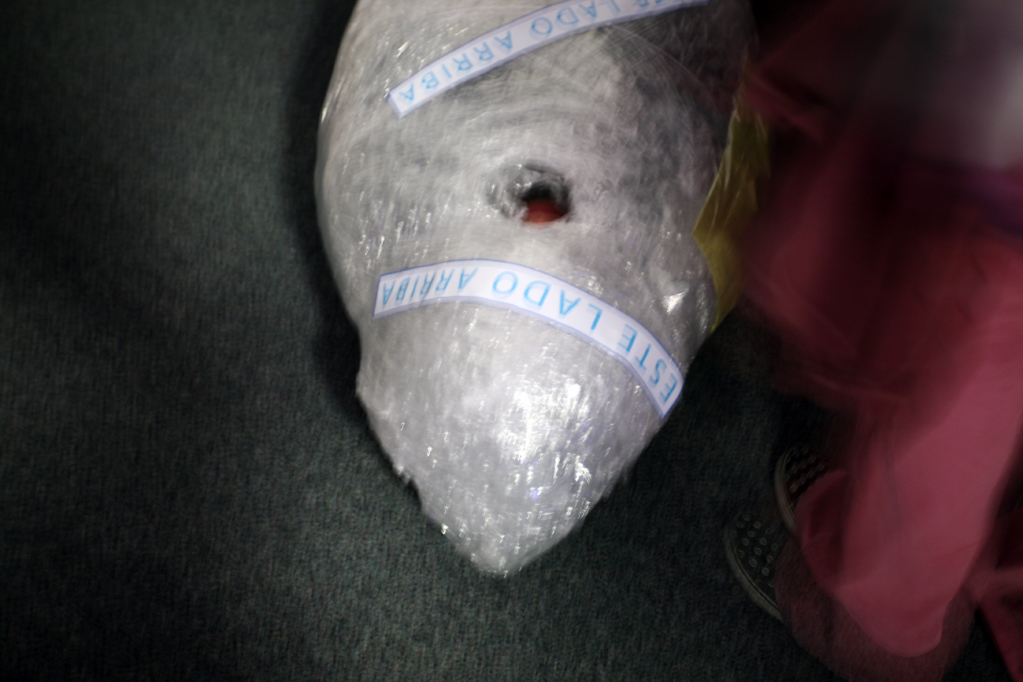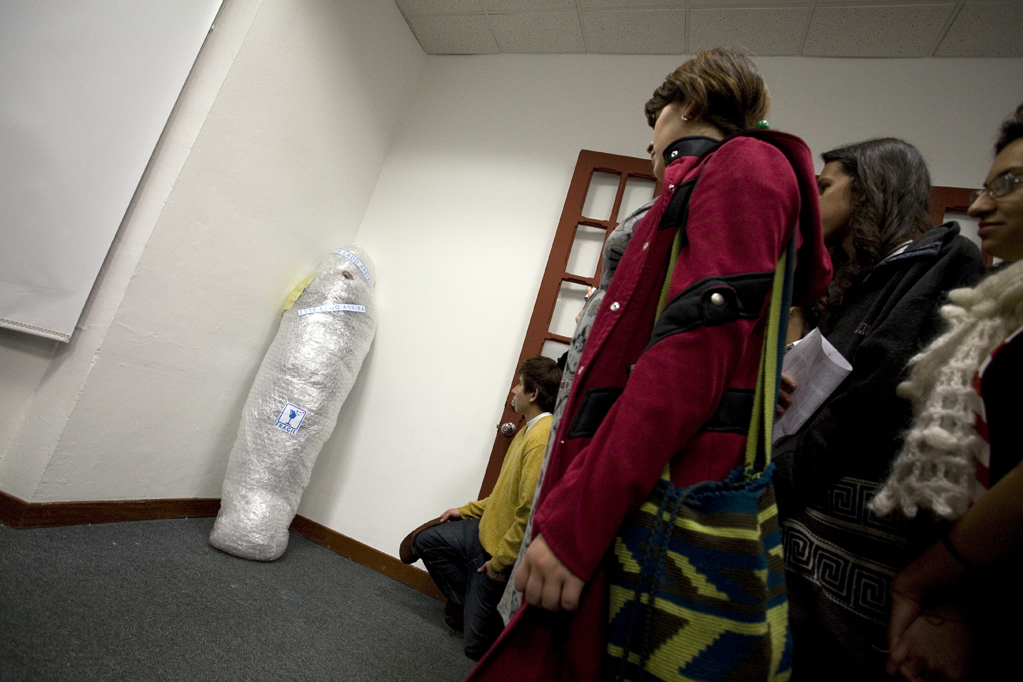 For his bachelor's final work Monroy tried to export him out of the country as an object. With that commitment he created a legal exportation brand named Performance Product Inc. bored to try to reach and apply to all the official instances and get the necessary permissions that any object needs in order to be exported out of the country. After long lines at ministries, legal letters and denials He finally send himself wrapped, as a furniture piece, to the place of the exhibition and stayed in that situations as long as he could tolerated. To be delivered Monroy's family members were contracted and paid as stuff members of Performance Product Inc. After the performance was done the opened package, together with two the video registration of the action and some legal letters, were left as testimony of the actions and elements for public relate to.
ESTE LADO ARRIBA BY CLARA GIRALDO
No, no señor. Lo que yo quiero no es eso. No sé si me expliqué o me esté explicando bien, pero estoy seguro de lo que quiero, de lo que quiero, de lo que estoy pidiendo. Mejor dicho, lo que necesito es saber qué necesito para exportarme.
No, no es un cuadro de mí. Ni una escultura. ¿No tienen un formato o algo así? Digo, para poner los datos de lo que uno quiere exportar. ¿No? Sí, sí, ya sé que mi caso es muy raro y que nunca le habían pedido algo así. Entiendo. Pero no, eso no me serviría. Sí claro, viajar en avión sería mucho más sencillo, pero no es lo que estoy pidiendo.
¿No le parece un poco narcisista? No, no veo por qué. Es más, me pareció que mirándome así, como diciendo "¿no le parece un poco narcisista?", lo único que va a lograr es demorar más la fila, y que los que están atrás se empiecen a quejar por la demora. Debería decírselo, ya, de una.
Mire señorita. Tengo todos los papeles en orden: traje las fotos, llené todos los datos, sólo me falta lo de la constancia, pero entenderá que no es tan sencillo. Si usted misma aún no me ha entendido. No, claro que no es un chiste. ¿Usted cree que me voy a pasar todo el día aquí plantado sólo para hacerla reír? Pues no.
¿Me permite su esfero? Listo, muchas gracias, entonces yo voy allá, de 9 a 5, ¿cómo me dijo que se llama el señor con el que tengo que hablar allá?
Buenas, ¿la fila para averiguar lo de las exportaciones, es acá?