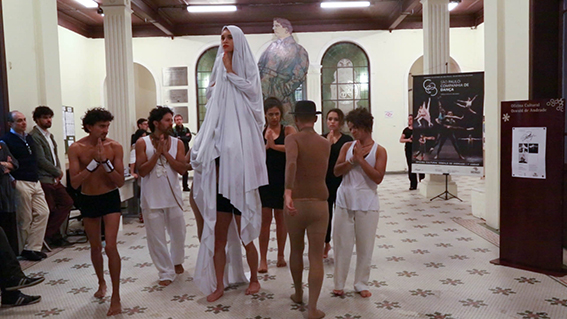 Re-front Comission
2014
Re-formance piece for 10 to 15 people.
Duration min. 65 minutes, max. 85 minutes.
Departing from Re-formance concept, developed and defended as the central idea of the masters thesis Thoughts on Re-formance... The refornt commission presents itself as a collective and multidisciplinary work, in which a minimum number of 10 to a maximum of 15 performers, dance choreographically a samba theme that features the official history of performance art a la maniere the front commissions of samba's school does at the sambodromo. This work presents, play and re-shape the historical icons of performance art amalgamating, mixing and celebrating them in the language in which Latin America's history of the gesture is presented and told, specifically in Brazil tradition.
Like in any commission front the participants are required to repeat their choreography up to 5 times for crossing the sambodromo runaway in a max time. Of 85 minutes. While appropriating signs and images of the world of the arts using signs, symbols and codes of mass and popular culture, the re-front commission reformulated itself, modifying and changing their actions in each repetition mean while the structure and order of its subject allegory and places in the choreography are maintained. Such reformulation implies that the performers have the freedom to change their actions at any time, improvising new ways and forms of the same gesture, this to altering signifiers, meanings and implications of the images, actions and symbols that were used could have. The main idea is to emphasize and highlight the specificity of every action and the context in which is inserted. The commission invited to re-think and re-form the official and unofficial history of performance and life, expanding our repertoire of actions to activate the repetition, imitation and appropriation as conscious critical tools of reaction, cheering and approaching in a cherish way the eternal condemnation "of repeating our history."